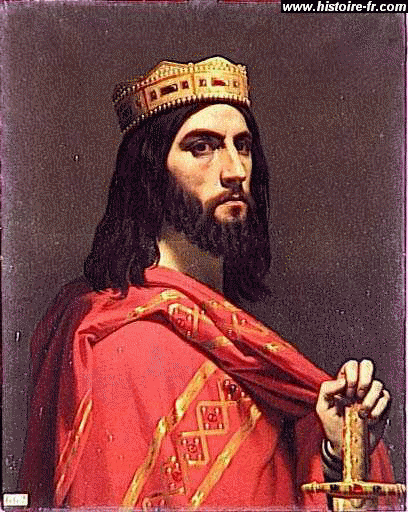 A posthumous portrait of Dagobert I from 1842.
Parents: Chlothar II, king of the Franks, and Haldetrude
Date of Birth: 603
Spouse: Gormatrude, then Nanthild
Reign: 629 – 634
Predecessor: Chlothar II
Summary: Gallic politics in the 7th century were very odd. Gaul was divided, at times, into four regions. The largest and most enduring of the two were Neustria and Austrasia. Whenever an heir came of age, the nobles of Gaul would force the Frankish king to divide the kingdom between himself and his son. And thus Dagobert, in 623, was given the title "king of Austrasia" which means "King of the East Lands" in Frankish. Today, those lands comprise up to half of Germany, all of the Low Countries, and large swaths of north-eastern France. When Chlothar II died, Dagobert inherited the entire kingdom. His younger brother, Charibert, claimed Neustria (northwestern France) but Dagobert gave him Aquitaine (southwestern France) instead. In 632, his brother died and Dagobert became the uncontested king of All the Franks, ruling a state that included everything from the Pyrenees past the Rhine, and into modern-day Italy in the south.
As his first order of business, he placed his own son, Sigebert III, on the throne of Austrasia as his own father had done for him. But there was a difference. Sigebert was only three at the time of his enthronement and Dagobert still ruled de facto for another 15 years. Dagobert made Paris his capital city, being located in Neustria near the Austrasian border. He also was responsible for the construction of Saint Denis Basilica, whereafter most French royalty would be interred. Dagobert died in 634 as the last adult Merovingian monarch with any real political power. Upon his death, Sigebert became uncontested ruler of Austrasia while an infant son, Clovis II, ruled Neustria and Burgundy (southeastern France). For the next hundred years, the Merovingian dynasty would stagnate as each successive monarch would only live long enough to produce a son, and then die, leaving the government in the hands of the noble Carolingian family. Dagobert himself had to deal with this faction, led at the time by Pepin of Landen, when he appointed Sigebert to the Austrasian throne, but he retained his power until his death. Never again would a Merovingian monarch be capable of holding such authority in Gaul.
Date of Death: 19 January 639
Successor: Theuderic III
Other Monarchs Who Died Today:
Maharana Pratap, lord of Mewar (1540)